10 Future Emerging Opportunities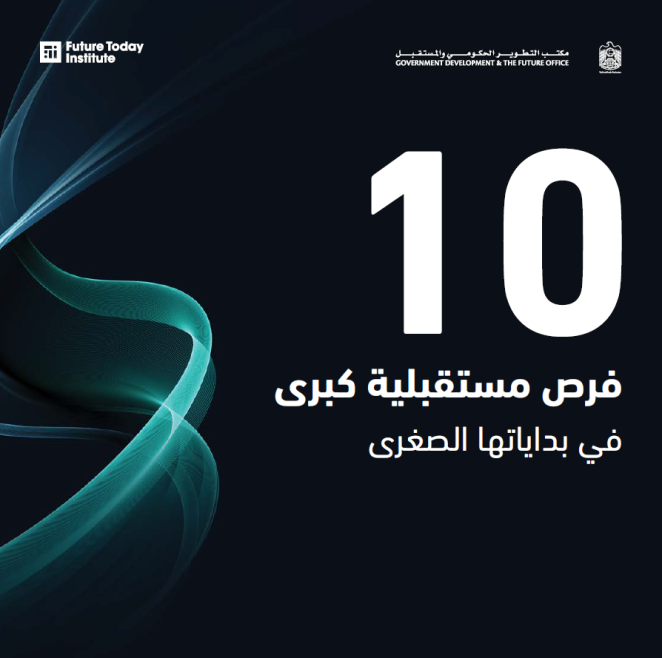 10 Future Emerging Opportunities
Ohood Al Roumi:
We are exploring future opportunities and global transformations to enhance our readiness for the future
Proactive investment in emerging opportunities leads to achieving development leapfrogs for the UAE towards a strong, dynamic economy and a more sustainable future
Seizing future opportunities requires developing proactive, practical policies or projects and designing agile legislations.
Dubai, United Arab Emirates: 12 November, 2023
The Government Development and the Future Office launched a new whitepaper entitled "10 Future Emerging Opportunities, Government Leaders Should Be Ready For", analyzing the 10 most important future trends expected to take place over the next decade. The report provides the UAE government entities with new prospects to explore and leverage in their proactive programs, projects and initiatives that would enhance the UAE's readiness for the future in various vital sectors.
The report came as a strategic collaboration between the Government Development and the Future Office and the Future Today Institute, a strategic foresight advisory firm dedicated to the application of foresight globally, which has utilized its proprietary trend modeling and foresight methodology to develop this strategic resource. The report aims to raise awareness among government leaders and decision makers on future opportunities and the latest global trends, to help them keep pace and prepare for the global rapid transformations in the next 10 years.
The report provides analysis on the 10 most important trends namely, Responsive AI (RAI), the End of Disease, Seamless Finance, Manufacturing in the Final Frontier, Sustainable Opportunities, Expediting Movement, Educational Evolution, Ending Water Scarcity, Digital Deception Protection and Advanced Agriculture.
Her Excellency Ohood bint Khalfan Al Roumi, Minister of State for Government Development and the Future, stated that:
"Today, our world is witnessing major accelerating tectonic shifts that affect countries, governments, societies worldwide, leading to a future with a different global development map and new economic realities. Governments need to act proactively and enhance readiness to seize future opportunities by designing innovative development models to achieve economic diversification, readiness and sustainability to ensure alignment with the vision and directives of His Highness Sheikh Mohamed bin Zayed Al Nahyan, President of the UAE, and His Highness Sheikh Mohammed bin Rashid Al Maktoum, Vice President and Prime Minister of the UAE and Ruler of Dubai, as well as aligning with the "We the UAE 2031" vision.
"The report explores 10 major future development trends that are still in their early stages of development, and uncovers trends shaping new global strategic directions for a better future. The 10 emerging global trends constitute development opportunities worth around $ 20 trillion over the next decade. Proactive investment in these trends will achieve developmental leaps for the UAE towards a strong, dynamic economy and a more sustainable future," HE added.
"This study makes an important proactive tool that helps to proactively institutionalize innovative, ambitious and practical government programs to ensure the readiness of the UAE and the betterment of current and future generations," HE noted.
Her Excellency Al Roumi stressed that seizing future opportunities requires developing proactive and practical programs, projects and policies, while continuously designing agile regulations, and achieving innovative modernization of the government's systems. In addition, they require upskilling to enhance readiness for the future in various vital sectors and enable the accelerated capabilities to respond to global shifts and maintain the level of qualitative achievements for the UAE.
The opportunities presented by the 10 emerging global trends include:
Responsive AI (RAI)
Technology leaders from various sectors are continuously working on developing a new generation of Responsive Artificial Intelligence (RAI) functions with the primary objective of interpreting data, extracting valuable insights, optimizing processes, enhancing or introducing new competencies, and driving more informed decision-making in a way that closely resembles how humans think and react.
$2.7 trillion
Fueled by the diverse array of industry and consumer applications inherent to artificial intelligence, alongside the substantial productivity amplifications achievable through the integration of new generation AI within the corporate landscape, it is anticipated that the worldwide AI market will grow from a valuation of approximately $144 billion in 2023 to reach a value of $2.7 trillion by 2033.
The End of Disease
Bioengineering will pave the way for targeted genetic modifications, allowing us to preemptively rectify disease-prone genetic markers before they manifest. These cutting-edge interventions will not only treat but also prevent a wide array of inherited diseases, revolutionizing human health and longevity.
$959 billion
Gene editing and anti-aging techniques are propelling the proactive disease elimination market to reach just under $1 trillion by 2033 with a 22% CAGR, reaching $959 billion, as well as digital transformation and automation across the healthcare and medical sectors.
Seamless Finance
Financial services took a steady approach to adopting automation and algorithms over the years in the effort to increase speed and efficiency while also reducing costs. The accelerated rate of automation offered institutions more options for enhancing customer experiences, mitigating risks, ensuring regulatory compliance, and more easily detecting fraud. They further paved the way for new digital opportunities that can transform the financial system into an advanced, digital, speedy, flexible, and efficient system.
$1.1 trillion
AI has already become entrenched within finance, as recent strides in AI technology have significantly augmented its capacity to engage with unstructured data, engendering fresh prospects for managing complex operations such as facilitating customer relationships. These dynamics and others are poised to propel the Seamless Finance market toward a projected valuation of approximately $1.1 trillion by 2033, a CAGR of 23.1%.
Manufacturing in the Final Frontier
New, cutting-edge capabilities of space economics can provide many opportunities as related to establishing advanced micro-industries in lower-Earth orbit, such as semiconductors, leveraging micro-gravity and high-vacuum conditions and reduced contamination risk of a space environment. Many companies are developing advanced space factories to produce this kind of technology.
$2.2 trillion
The space manufacturing economy is expected to eclipse $2.2 trillion in value by 2033, up from roughly $630 billion in 2023. Global constraints in space accessibility and the emerging nature of operating capabilities dampen the space development market's average annual growth between 2023-2028 to about 13%. However, beyond 2028, into the 2030s, growth rates are expected to climb to the mid-teens, reaching 16% annual growth by 2033.
Sustainable Opportunities
Governments and builders are looking to revamp how they construct the world their citizens and tenants live in to protect them from increasingly volatile and unpredictable weather conditions. Municipalities and developers must employ innovative techniques like sea steading, underground and domed buildings, additive manufacturing, self-healing concrete, and green building materials
$1.4 trillion
The ever-increasing threat of climate change is helping fuel the anticipated growth throughout the sustainable opportunities market. Expected to grow at a 30.4% CAGR, the market remains propelled by the possibilities of additive manufacturing in the construction market and the implementation of newer technologies like self-healing and greener, more sustainable materials.
Expediting Movement
More people and higher volumes of goods are moving from point A to B in minutes rather than hours thanks to new forms of transportation that enable movement more efficiently, at higher speeds, and more sustainably. The growing cargo capacities of drones and the emergence of new urban air mobility solutions like electric vertical take-off and landing (eVTOL) aircraft provide more solutions to create hyper-targeted supply chains and transit routes capable of bringing more people and objects to less frequented locations
$283 billion
Advancements in battery tech and electric propulsion, alongside commercial and regulatory embrace of passenger drones and eVOTL aircraft, will drive the alternative transportation market to a $283B valuation by 2033.
Educational Evolution
Emerging technologies like quantum computing or genome editing and the rapid advancement of others like Artificial Intelligence are spurring the need to overhaul traditional education systems.
New ways of learning are also emerging. Certificate programs, micro-credentialing, and lifelong learning plans are growing in popularity. Alternative education schemes are increasingly attractive to younger students, who post-Covid are accustomed to asynchronous remote learning and have less appetite for traditional, four-year university programs. This also allows students and employees to adapt to changes in their work environment, upskill, or change jobs more efficiently.
$380 billion
VR and AI integration in education and the proliferation of micro-credentialing are projected to propel the sector's growth to $380B by 2033, a robust CAGR of 23%.
Ending Water Scarcity
The growing climate crisis and expanding global population are quickly extinguishing the planet's natural freshwater supplies. To combat the threat of water scarcity, researchers, companies, and nations are turning to a constellation of technologies and techniques to collect, treat, store, and distribute our most precious resource to sustain life.
Newer technologies contribute to increasing the production and harvesting of water from alternative sources extracted from the air. In addition, advanced agricultural technology contributes to reducing the amount of water needed to grow crops. New emerging technologies are also emerging that contribute to reducing the amount of water needed to generate energy or produce sustainable materials such as green hydrogen or sustainable steel.
$1.4 trillion
The ever-increasing threat of climate change is helping fuel the anticipated growth throughout the sustainable opportunities market. The market remains propelled by the possibilities of additive manufacturing in the construction market and the implementation of newer technologies. Given the persistent rise in global water demand, paralleling water scarcity, the market opportunity is projected to attain a valuation of $1.4T by 2033.
Digital Deception Protection
Digital technologies are emerging and transforming at an accelerating pace and hold great promise for improving people's lives or increasing the efficiency of a company. However, each new technology or application becomes a fresh way for bad actors to infiltrate, disrupt, and steal from nations, companies, and individuals. The risk is also rising of cyberattacks becoming more automated or intelligent. Therefore, the cybersecurity sector and cyber developers should work on developing cyber capabilities, solutions and products with advanced levels of security and digital encryption.
$9.2 trillion
The market is projected to sustain a robust 19.7% growth over the next decade to achieve a market value of over $9.2 trillion, with significant boosts coming from the addition of cybersecurity mesh and industrial cloud applications.
Advanced Agriculture
Agriculture is advancing to the point where crops can grow in nearly any environment with little to no human supervision. Cultivation is being enhanced and streamlined by harnessing a combination of technologies, ranging from genetic modification and the development of cultured foods to using AI and drones to monitor and manage yields. Farmers are adopting precision farming techniques and novel approaches such as vertical farming to grow their crops more efficiently with the assistance of data and automation. Advancements are also spreading to the supply chain as blockchains and other technologies track food provenance and safety.
$179 billion
Fueled by technology progressions streamlining every facet from planting to harvesting, the advanced agriculture market is poised for an 18.9% CAGR growth over the forthcoming decade to be worth nearly $179 billion globally.